Why buy a new press when Epic's Delta Dampening System can make an existing press print like new?
Whether you intend to extend the useful life of an older press or to maximize the quality and productivity of an new one, Epic's Delta Damping System has a proven reputation as the best.
With the Epic Delta Dampening System, users begin to realize cost savings immediately. In fact, typical return on investment is within one year of operation.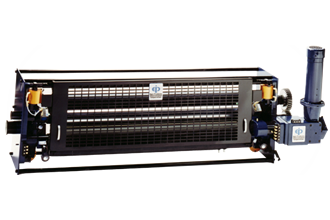 Guaranteed hickey-free printing — eliminates downtime, paper waste and sorting time
Smoother, denser solids
Sharper halftones with less dot gain
Cleaner, sharper reverses
Sharper, dryer print
Tighter screens without plugging
Excellent color control and consistency
Faster make-readies
Increased operator safety
Overall cost savings – reduced waste and ink usage, improved press efficiencies
Rapid return on investment
Delta Dampening System retrofits are available for virtually every major press model – offset, web or metal presses
Form roller operates at a lower surface speed than that of the plate
Dampening form roller is separate from the inking system, allowing for the retention of all ink form rollers
Separate variable-speed drive motor and water control adjustments
Thin film of precisely metered dampening solution is applied as required across the plate
Exclusive Epic air-activated oscillating bridge roller reduces ghosting
Instantaneous control of ink/water balance
The unique Delta design utilizes helical gears and positive roller settings to drive the dampening form roller at a slower surface speed than the plate cylinder. The differential motion, called the "Delta Effect" wipes away the foreign particles that cause hickeys, while continuously allowing a fresh charge of ink to the plate.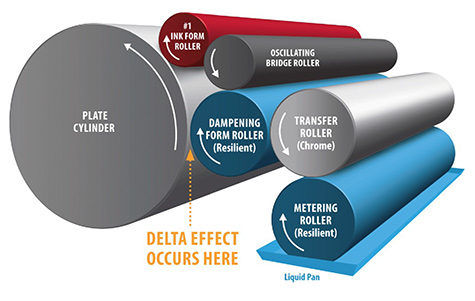 As one satisfied user said, "Epic's System helps me stop putting cash in the trash."
It's a simple matter of dollars and sense, Epic's Delta Dampening System offers the most cost-effective investment for reaping new press benefits. It pays for itself quickly and increases profits; typically the ROI is within 7 to 12 months.
The Epic Delta Dampening Story
Since 1977, Epic Products has been manufacturing the state-of-the-art Delta Dampening System. Our revolutionary system prevents hickeys and other defects during the printing process. After 40 years, Epic's Delta Dampening system remains the industry standard; all major press manufacturers now use their own version of the Delta® System. Since Epic pioneered the development, our retrofit systems are far superior to any of the dampening systems found in most new presses.